DHQ: Digital Humanities Quarterly
Editorial

From the Presupposition of Doom to the Manifestation of Code: Using Emulated Citation in the Study of Games and Cultural Software
Abstract
For the field of game history to mature, and for game studies more broadly to function in a scholarly manner in the coming decades, one necessity will be improvement of game citation practices. Current practices have some obvious problems, such as a lack of standardization even within the same journal or book series. But a more pressing problem is disguised by the field's youth: Common citation practices depend on the play experiences and cultural knowledge of a generation of game studies scholars and readers who are largely old enough to have lived through the eras they are discussing. More sustainable and precise alternatives cannot fall back on the tools available for fixed media — such as the direct quotations and page numbers used for books or the screenshots (of images that appear to all viewers) and timecode used for video. Instead, this essay imagines an alternative approach, working in the digital humanities traditions of speculative collections and tool-based argumentation. In the speculative future we present, there are scholarly collections of software, as well as tools available for citing software states and integrating these citations into scholarly arguments. A working prototype of such a tool is presented, together with examples of scholarly use and the results of an evaluation of the concept with game scholars.
1 The Changing Archive
We provide in this article a way forward for the particular case of scholarship in video game history — by designing new means for historical citation, reference, and source retrieval. As we discuss below, these new means support a new approach to game scholarship (including, but not limited to, the history of games). Moreover, this new way of understanding game citation generalizes to other computational artifacts that will likely be of increasing concern to scholars, such as systems and application software, user interfaces, and more.
Those investigating humanistic citation and authority in digital humanities, like Burdick et al. in Digital_Humanities, call out the coming dissolution of humanistic and preservationist foundations.
In preparing this augmentation, the authors used a new browser-based tool — the Game and Interactive Software Scholarship Tool (GISST) — to play through the game, record our performance and bookmark specific instants, store these bookmarks in a database, and hyperlink the textual content to specific moments in that performance. A reader has only to load such a bookmark to witness the moment of the game we need for our argument; they may then continue to play or simply click the next bookmark. The searchable database of performances and game citations itself becomes fuel for future arguments and counterarguments, as scholars can start playing from any of these bookmarks and take different actions (or, indeed, can apply the same series of actions to a different version of the game): "What if we had gone left instead of right?" "How does this scene appear differently in the first alpha version versus the final released version?"
Games and other interactive systems have dual lives: on the one hand, they are processes (often computer programs) which can generate sequences of emergent phenomena bounded only by combinatorics, with each additional choice or instant of time branching possible worlds by increasing exponents; on the other hand, every experience of a game is not a branching tree, but a linearized sequence of events and audiovisual outputs. Considering the game program as a text is not necessarily more or less correct than considering a specific play of a game as a text, and GISST illuminates the difference between game program and game performance which we explore later in this work.
The future of scholarship in game history is then not only based on the stabilization of records for future retrieval, but also in the ways that that retrieval is enacted in practice, and available for further exploration and exploitation by critical computational methods and tools.
We begin this article by identifying key problems in game and software citation. We explore these problems by applying theories of reduction and intertextuality. This leads us to new approaches for reference and from there to the design of GISST, the tool supporting the new kind of games scholarship illustrated above. Finally, we present a qualitative evaluation of GISST by other scholars.
Acknowledgements
The authors wish to thank Brandon Butler, Director of Information Policy at the University of Virginia Library, for help in the clarification of GISST's potential legal context in endnote 23. This work was supported, in part, by Institute for Museum and Library Services grant LG-06-13-0205-13.
Appendix
Figures below illustrate the interactive saved states.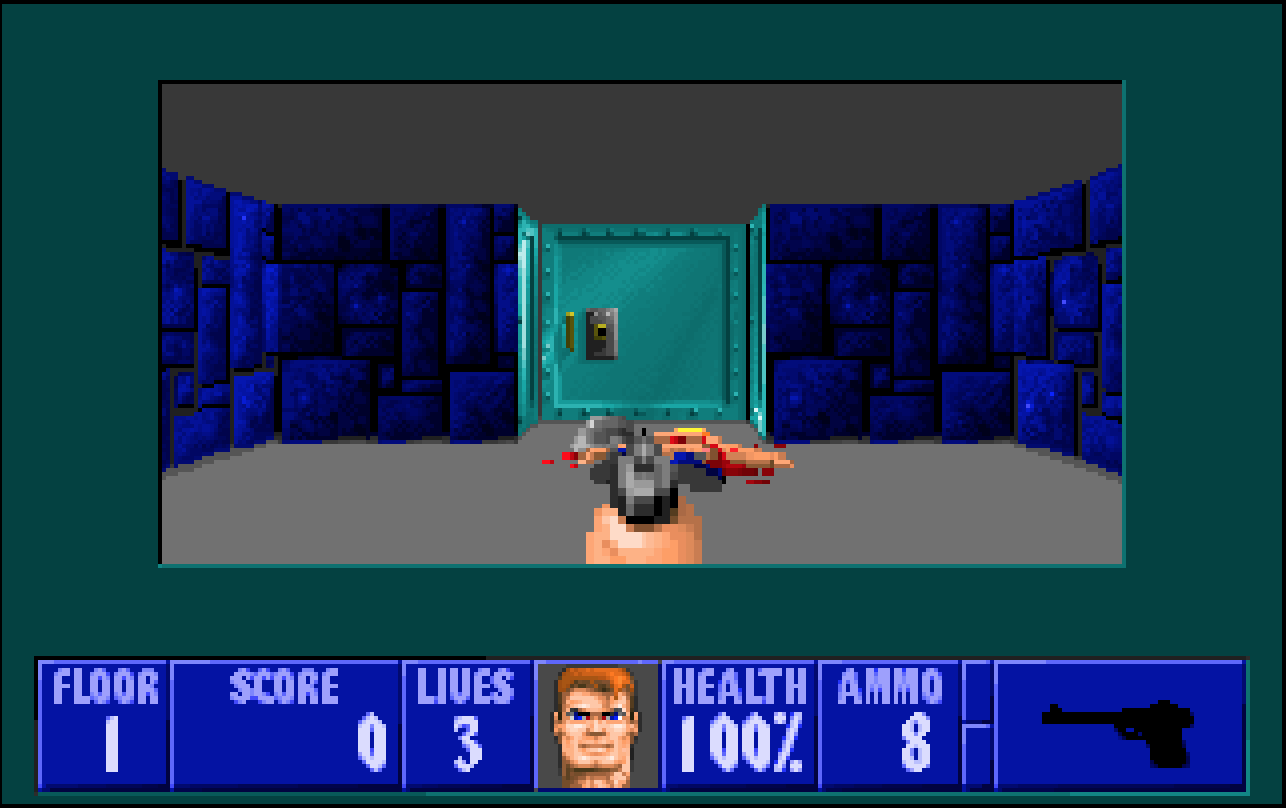 Notes
Works Cited
Altice 2015
 Altice, N., 2015. I am error: the Nintendo family computer/entertainment system platform, Platform studies. The MIT Press, Cambridge, Massachusetts.
Anderson et al. 2008
 Anderson, E., Engel, S., Comninos, P., and McLoughlin, L. "The Case for Research in Game Engine Architecture". In Proceedings of the 2008 Conference on Future Play: Research, Play, Share, 228–231. Future Play '08. New York, NY, USA: Association for Computing Machinery, 2008.
https://doi.org/10.1145/1496984.1497031
.
Berger 1973
 Berger, J., 1973. Ways of seeing. BBC and Penguin Books, London.
Bogost and Montfort 2009
 Bogost, I. and Montfort, N., 2009. Racing the Beam: The Atari Video Computer System. MIT Press, Cambrige, Mass.
Borgman 2007
 Borgman, C.L., 2007. Scholarship in the digital age: information, infrastructure, and the Internet. MIT Press, Cambridge, Mass.
Burdick et al. 2016
 Burdick, A., Drucker, J., Lunenfeld, P., Presner, T., Schnapp, J., 2016. Digital_Humanities. The MIT Press.
Denson 2017
 Denson, S., 2017. "Visualizing Digital Seriality or: All Your Mods Are Belong to Us!" 22.1.
Eco 2015
 Eco, U., 2015. How to Write a Thesis. MIT Press, Cambridge, MA; London.
Fairclough 1992
 Fairclough, N., 1992. Discourse and social change. Polity Press, Cambridge, Mass.
Fernández-Vara 2014
 Fernández-Vara, C., 2014. Introduction to Game Analysis, 1 edition. ed. Routledge, New York.
Grafton 1997
 Grafton, A., 1997. The footnote: a curious history, Revised edition. ed. Harvard University Press, Cambridge, Mass.
Gualeni et al. 2019
 Gualeni, S., Fassone, R., Linderoth, J., 2019. "How to Reference a Digital Game", in: Proceedings of the 2019 DiGRA International Conference. Presented at DiGRA, Kyoto, Japan.
Hart et al. 2016
 Hart, V., Case, N., 2016. "Parable of the Polygons" [WWW Document]. Parable of the Polygons. URL
http://ncase.me/polygons
(accessed 4.5.17).
Hyland 2000
 Hyland, K., 2000. Disciplinary discourses: social interactions in academic writing, Applied linguistics and language study. Longman, Harlow ; New York.
Kaltman et al. 2014
 Kaltman, E., Wardrip-Fruin, N., Lowood, H., Caldwell, C., 2014. "A Unified Approach to Preserving Cultural Software Objects and their Development Histories".
Kaltman et al. 2015
 Kaltman, E., Wardrip–Fruin, N., Lowood, H., Caldwell, C., 2015. "Methods and Recommendations for Archival Records of Game Development: The Case of Academic Games". Proceedings of the 10th International Conference on the Foundations of Digital Games.
Kaltman et al. 2016
 Kaltman, E., Wardrip-fruin, N., Mastroni, M., Lowood, H., De groat, G., Edwards, G., Barrett, M., Caldwell, C., 2016. "Implementing Controlled Vocabularies for Computer Game Platforms and Media Formats in SKOS". Journal of Library Metadata 16, 1–22.
https://doi.org/10.1080/19386389.2016.1167494
Kaltman et al. 2017
 Kaltman, E., Osborn, J., Wardrip-Fruin, N., Mateas, M., 2017. "Getting the GISST: A Toolkit for the Creation, Analysis and Reference of Game Studies Resources", in: Proceedings of the 12th International Conference on the Foundations of Digital Games. Presented at the Foundations of Digital Games, Hyannis, MA.
Kaltman et al. 2020
 Kaltman, E., Mason, S., Wardrip-Fruin, N., n.d. "The Game I Mean: Game Reference, Citation, and Authoritative Access". In submission.
Kirschenbaum 2008
 Kirschenbaum, M.G., 2008. Mechanisms: New Media and the Forensic Imagination. The MIT Press, Cambridge, Mass.; London.
Lynch 1988
 Lynch, M., 1988. "The externalized retina: Selection and mathematization in the visual documentation of objects in the life sciences". Human studies 11, 201–234.
MLA Handbook 2016
 Modern Language Association of America (Ed.), 2016. MLA handbook, Eighth edition. ed. The Modern Language Association of America, New York.
Maher 2012
 Maher, J., 2012. The future was here: the Commodore Amiga, Platform studies. MIT Press, Cambridge, Mass.
Manchel 1990
 Manchel, F., 1990. Film study: an analytical bibliography. Fairleigh Dickinson University Press ; Associated University Presses, Rutherford : London.
Mandelin n.d.
 Mandelin, C., n.d. "Poemato CX's Twitch Stream Magic."
McDonough 2010
 McDonough, J.P., 2010. "Preserving virtual worlds: Final Report". Graduate School of Library and Information Science, University of Illinois at Urbana-Champaign.
Nelson 1974
 Nelson, T.H., 1974. Computer lib: Dream machines. Self published.
Nelson 1993
 Nelson, T.H., 1993. Literary Machines, 93 edition. ed. Mindful Press.
Newman 2012a
 Newman, J., 2012. Best before: Videogames, supersession and obsolescence. Routledge.
Newman 2012b
 Newman, J., 2012. "Ports and patches: Digital games as unstable objects". Convergence: The International Journal of Research into New Media Technologies 18, 135–142.
Owens and Padilla 2020
 Owens, T. and Padilla T., 2020. "Digital sources and digital archives: Historical evidence in the digital age". The International Journal of Digital Humanities.
Papert 1980
 Papert, S., 1980. Mindstorms: Children, computers, and powerful ideas. Basic Books, Inc.
Pinchbeck 2013
 Pinchbeck, D., 2013. Doom: scarydarkfast. University of Michigan Press, Ann Arbor.
Pinchbeck et al. 2019
 Pinchbeck, D., Anderson, D., Delve, J., Alemu, G., Ciuffreda, A., Lange, A., 2009. "Emulation as a strategy for the preservation of games: the KEEP project", in: DiGRA 2009-Breaking New Ground: Innovation in Games, Play, Practice and Theory.
Ramsay 2011
 Ramsay, S., 2011. Reading machines: toward an algorithmic criticism, Topics in the digital humanities. University of Illinois Press, Urbana.
Rinehart 2014
 Rinehart, R., Ippolito, J. (Eds.), 2014. Re-collection: art, new media, and social memory, Leonardo. The MIT Press, Cambridge, Massachusetts.
Rosenthal 2015
 Rosenthal, D.S., 2015. Emulation & Virtualization as Preservation Strategies.
Siemens and Moorman 2006
 Siemens, R.G., Moorman, D. (Eds.), 2006. Mind technologies: humanities computing and the Canadian academic community. University of Calgary Press, Calgary.
Staley 2015
 Staley, D.J., 2015. Computers, visualization, and history: how new technology will transform our understanding of the past, Second Edition. ed, History, the humanities, and the new technology. Routledge, Abingdon.
Sula and Miller 2014
 Sula, C.A., Miller, M., 2014. "Citations, contexts, and humanistic discourse: Toward automatic extraction and classification". Literary and Linguistic Computing 29, 452–464.
https://doi.org/10.1093/llc/fqu019
Svensson and Goldberg 2015
 Svensson, P., Goldberg, D.T. (Eds.), 2015. Between humanities and the digital. The MIT Press, Cambridge, Massachusetts.
Swink 2009
 Swink, S., 2009. Game Feel: A Game Designer's Guide to Virtual Sensation. Morgan Kaufmann, Burlington, MA.
Warwick et al. 2012
 Warwick, C., Terras, M.M., Nyhan, J. (Eds.), 2012. Digital humanities in practice. Facet Publishing in association with UCL Centre for Digital Humanities, London.
Wikipedia 2019
 "List of video game emulators", 2019. Wikipedia.
Woolgar 1986
 Woolgar, S., 1986. "On the alleged distinction between discourse and praxis". Social Studies of Science 309–317.
Yamamiya et al. 2009
 Yamamiya, T., Warth, A., Kaehler, T., 2009. "Active Essays on the Web", in: Creating, Connecting and Collaborating through Computing, 2009. C5'09. Seventh International Conference On. IEEE, pp. 3–10.
This work is licensed under a
Creative Commons Attribution-NoDerivatives 4.0 International License
.